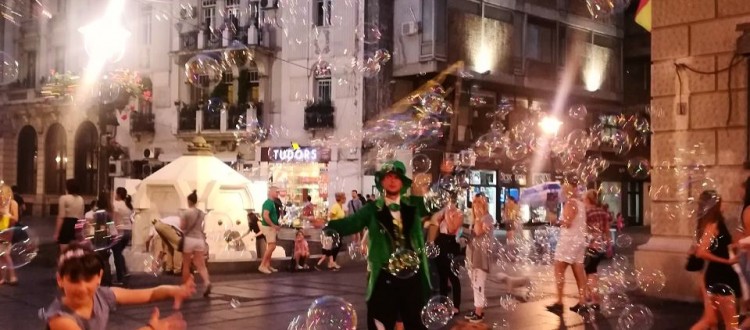 5 Reasons Why You Should Visit Belgrade This Summer
If you are planning your trip to Europe and the Balkans this summer, hopefully you are not crazy to skip Belgrade and miss out all the fun that our city can offer. If you are crazy I think that this will make you re-route your trip and make Belgrade your TOP destination this summer season!
1. The Vibe – Beautiful weather is something that people from Belgrade craved for a long time during winter and finally it is here! You can feel the vibe switch to summer mode and everyone is spreading the positive vibrations and no one is taking their sunglasses and smile of of their face 😊. Belgradians just can't wait to finish work and go get drinks with their friends. Cold beer and špricer ( white wine or rose with sparkling water) are a must during hot sunny days, but if the night goes a little further, don't be surprised when someone all of the sudden yels RAKIJA!
2. The Rivers – The temperature can get pretty high during summer but do not worry 'cause Belgrade has not just one, but two rivers that can cool you down. The summer breeze that is down by the rivers will help you relax and hide yourself from the hot concrete and buildings. Besides the boats, cafes and restaurants on the river where you can sip your drink and eat amazing food, you can also have an active vacation because on Sava and Danube all sorts of water sports are available, from canoeing and stand up paddling to water skiing and swimming at Ada Ciganlija beach. You name it, we will find it for you 😊.
3. The Clubs – You must have heard that Belgrade has one of the best night life scenes in the world! And yes, we are very proud of it! We just like to have fun during the hole year, but everyone is waiting for the summer clubs on the river that are called Splavs ( plural Splavovi ) because there is nothing better then listening to good music in an open air club that is floating on the river! Sounds cool right? Just wait until you see the view and sunrise over the Kalemegdan fortress, I promise you that will be one of the most unforgettable moments of your trip!
4. Festivals – Besides the club scene that is active every day on the week! Yes you heard it well, EVERY DAY, Belgrade can offer you a bunch of cool festivals that you can visit during your summer vacation. One of the newest, most authentic and alternative festivals is called DEV9T and it is located in Stara Ciglana where there is a huge, breathtaking gallery, where over 1000 artists are presenting their work. The philosophy of Dev9t is to keep on creating. Besides the art work there is an amazing music program and a lot of workshops that anyone who is interested can apply. The Dev9t festival lasts nine days , from 15th – 23th of June. One of the biggest festivals is Belgrade Beer Fest, which is located on New Belgrade and has all kinds of beer to offer and a great lineup that includes not just Serbian bands but also great musicians from all around the world.
5. Film street – When you get tired of partying or swimming and you feel like watching a good movie, but you don't really want to sit inside a movie theater or at home because it's always nicer to be outdoor, well then you are at the right place, again! Every summer, the Film Street crew organises and Open Air Cinema and turns the city in a big movie theater for three months (Jun – August). The screenings take place on the most magical places, like the Kalemegdan Fortress, the Zemun quay next to the river and in different parks and streets of Belgrade.