Concert – Bijelo Dugme in Belgrade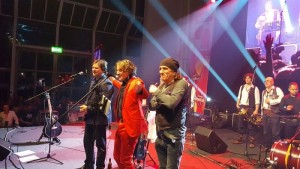 Ex-Yugoslavian rock group 'Bijelo Dugme' finaly comes to Belgrade. Concert is scheduled for 19. November 2016. with start at 20:30 in Kombank arena, Belgrade, Serbia.
This is 25th performance of one of the biggest ex-Yugoslavian rock group in Belgrade.The audiance will have a chanche to sing together some of their most famous songs "Tajna veza", "Lažeš", "Đurđevdan" and much more. Concert will last 2hrs and 30minutes and Goran Bregović, Alen Islamović and Mladen Vojičić Tifa, members of this group, promises you the best entertainment ever.
Hostel Beogradjanka offers you discount – 20% off for all ticket holders + free transport to Kombak Arena! Just show your ticket upon check in hostel.
You can buy your tickets here
Book now your room or contact us for more informations.
*Please NOTE that prices displayed when you want to book a room at website are still season prices, so price starts from €9.95/person contact us at any means of communication to check availability.
photo source: alo.rs