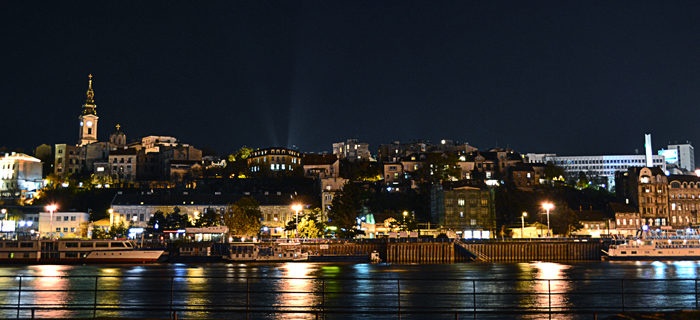 Belgrade, a city that never sleeps
In Belgrade, every night is Friday night. Everyone is ready to party at all the time, dance the night away, and go straight to work the next day. It's really hard to resist the temptation when you know that on any given evening there are countless clubs out there full of young, gorgeous people having so much fun.
How did Belgrade become the world's nightlife capital?
During the '90s, Serbia went through the roughest patch in its recent history. The break-up of Yugoslavia, civil war, UN sanctions, hyperinflation, and high unemployment made sure that the only entertainment Belgraders had back in those days was the one they created themselves. Something changed in people's minds and – despite all the hardships of living in the capital of a nation that's was falling apart – the local nightlife industry boomed, taking clubbing to an art form. Everyone absolutely loved it.
The '99 NATO bombing forced Belgraders to take their fun even more seriously. Faced with everyday threat of losing our lives, we starting having huge outdoor concerts in city squares and on bridges, while some of the most famous night clubs started working even during daylight hours.
Today, Belgrade may be many years behind other European capitals when it comes to economic, industrial, and scientific development, but it's literally light years ahead when it comes to nightlife. The Belgrade clubbing industry is better organized and has more to offer than any other out there. Every night of the week, there are countless different clubs with different styles and with different kinds of music where you can go. It may be hard to believe, but all the clubs which have the capacity of 300 to 500 people are basically full every night of the week.
A lot of people who visit Belgrade and take part in its nightlife say that the only place they can compare it to is Ibiza, since both places have huge club opening and closing events. However, the difference is that Belgrade clubs work 12 months a year, while Ibiza clubs work only four.
Many young people work in the nightlife industry, mainly as club promoters. They advertise parties and events, often through word of mouth, bringing a lot of guests and customers and taking a cut of the bills. Their reputations depend on how many people they can get to the events they promote and how much money these people spend.
The mainstream clubbing scene consists of venues playing house music, progressive, tech house, and turbo-folk (a sub-genre of folk music with dance and pop elements specific to Serbia), but you can also find places specializing in R'n'B, pop, rock, trance, alternative, jazz, or just about any other type of music in existence.
You can find two types of clubs in Belgrade: winter clubs and summer clubs. Winter clubs are indoor clubs which are usually open during the winter season – from late September to early May. When the summer season comes, they all close their doors as the big openings of summer clubs start. These floating river clubs or barges (called "splavs" or "splavovi") are anchored at the riverbank and they're the main locations for partying during hot summer nights.
sourse: Belgrade at Night https://belgradeatnight.com/belgrade/