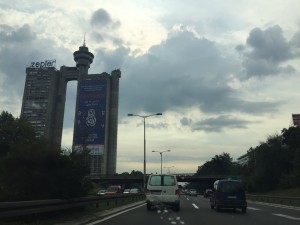 Western City Gate is a 35 storey skyscraper in Belgrade, Serbia which was designed in 1977 by Mihajlo Mitrović in the brutalist style.
It is formed by two towers connected with a two-storey bridge and revolving restaurant at the top. It is 115 metres tall (with restaurant 135–140 metres) and is the second-tallest high-rise in Belgrade.
The building is designed to resemble a high-rise gate greeting people arriving in the city from the West, the road from Belgrade Nikola Tesla Airport to the city centre leads this way.
FunFact: The mechanism was supposed to rotate the restaurant at the top of the building, but it never arrived and so the restaurant doesn't spin today.